Don Hilton
Don Hilton was raised as the second of three sons in a small town in northwest Pennsylvania by a family of unapologetic storytellers and was lucky enough to never quite know if the tales he heard were true.
Easily bored, his life has been a broad mix of experiences; boat pilot, lab technician, sweetheart, husband, post-graduate research fellow, geologist, statistician, teacher, stand-up comedian, computer support analyst, father, martial arts instructor, freelance writer, and author.
The only constant has been his storytelling. After more than a half-century of practice he's developed some talent. He's still not near as good as the old folks he used to listen to, but he's getting there.
MEET DON HILTON at Roxy's
Tuesday, Nov. 16 at 7:00 PM

R.J. Norgard was still in high school when he began working as a reporter and photographer for his local newspaper, the Port Clinton, Ohio, Daily News. Since then he has chased Russian spies in Germany, built a log cabin in the remote mountains of Washington State, and helped restore a historic lighthouse. His work as a private investigator in Alaska formed the basis for the characters and settings in his novels. The first, Trophy Kill, débuted to critical acclaim. Road Kill, second in the Sidney Reed Mystery Series, is scheduled for release in November 2021. He is currently at work Winter Kill, the third and final volume in the series. He resides in Port Clinton with his partner Suzy and their two cat
Kelly Boyer Sagert is a full time freelance writer who ghostwrites memoirs for clients and teaches people how to write their own memoirs in non-credit courses at Ohio colleges/universities and for Writer's Digest. She is the script writer of the nominated documentary, Trail Magic: The Grandma Gatewood Story.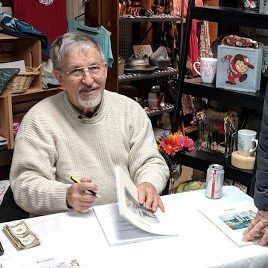 Jim Jablonski
An expert on Elyria history, Elyria: Second Century and Beyond Jim has definitely done his research. He has created a rich history of Elyria. Jim has proven to be an expert researcher. His book is a wealth of knowledge and a very interesting read.
Mike Haszto
Mike Haszto