bri
Build YOUR OWN shop!
Local Vendors
Look at all the lovely shops in Roxy's!
Give us a call
(440) 309-0735
ifounditatroxys@gmail.com
Build YOUR OWN little shop – right here at Roxy's Emporium!
We are always on the lookout for something new and something LOCAL. New shops add spice to our store. It's a great way to sell your quality crafts and show off your unique talents. We have low monthly rates and no extended contracts.
Call us for details at (440) 309-0735 or email us at ifounditatroxys@gmail.com
We support LOCAL ARTISTS & CRAFTERS by offering them a lovely venue to showcase their merchandise.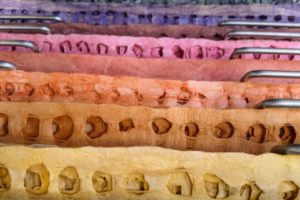 Amate Papers
Armondo Barry
Beautiful, hand made bark paper in assorted bright colors and styles. Imported from Mexico. You have to see, and touch it, to believe it! A paper crafter's dream!
Charming Designs
Denise Shook
These lovely wreaths and centerpieces will brighten up your home and add life to any corner of your house. So pretty!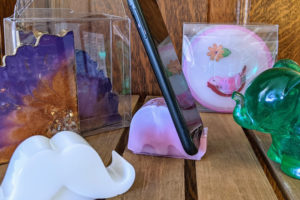 Grammy's Designs
Rita Moyer
What fun and practical pieces made from high quality resin. Original designs – fun with a purpose. We have lovely coasters, phone holders, cute animal candle holders, and more.
Granny's Place
Donita Roberts
Really sweet children's clothes, shoes, baby bibs, binky holders, plus a lot more.
She also has microwave bowl and plate cozies to keep your food hot,
Granny's Treasures
Donita Roberts
Craft supplies and surprises. A great place to find that little something to complete your project. Lots of things to explore.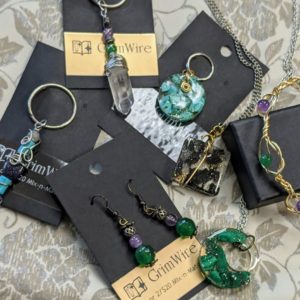 Grim Wire
Jessica Porter
Lovely hand crafted jewelry. Each piece individually made from quality wires and semi-precious stones. And the prices are fantastic. High quality at affordable costs
Happy Links Jewelry
Cynthia Staggs
Vintage jewelry that never goes out of style! You'll find pieces here that take you down memory lane, pieces that you've been looking for, pieces that give your outfit that special touch, pieces that make your modern fashion memorable.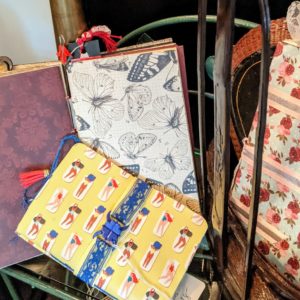 It's Only a Paper Moon
Deb Born
Hand crafted journals. These pretty little journals have lots of pockets and surprises inside along with plenty of blank pages for you to write on.
We make them pretty so you can make them beautiful by adding your own story.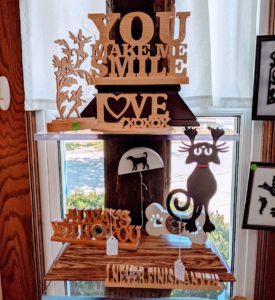 Kalyn Krafts
Karl Koch
Charming cut wood designs. These custom cuts make really cute gifts. Find the sign that says just the right thing. Kalyn Krafts also has a nice assortment of key chains and other unexpected items.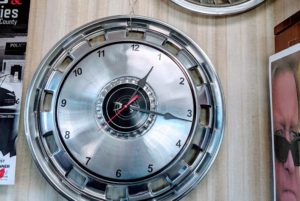 Kenny's Klocks & Kars
Ken Machor
What a cool addition to the "man cave"! We have a sampling of these, way-cool clocks in the store but he has lots of other makes & models you can order from. Kenny's also has vintage and collectible Hot Wheels cars – including limited edition PLAYBOY cars!
KJL Designs
Kathleen Lewis
This picture does not due justice to her beautiful assortment of hand made purses and bags. These bags have high quality, sturdy and functional construction. She has everything from evening bags to beach bags.
Lisha Nasipak
watercolor artist
Lisha takes her beautiful watercolor work to the next level. She uses her ORIGINAL work as a basis for many of her wonderful gift items and cards. You just have to come in and see how lovely they all are!
Lora's Littles
Lora Canonizado
Have a special message you want to share? Lora's Littles has a pretty assortment of home décor signs and art. These lovely signs and beautiful tiles have messages from the heart and fun quotes. She has lots of other art to make your house a home.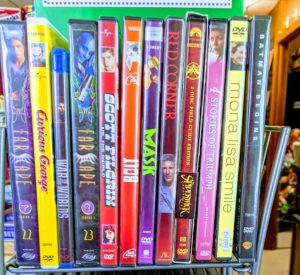 The Movie Rack
Rich Hooper
Remember your favorite movie? We invite you to walk down memory land with some of your old favorites and some not so old, but all fun. We invite you to create your own "movie night".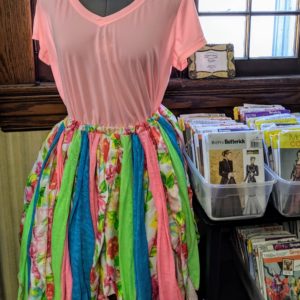 Pattern Play
Colleen Hurst
ALL PATTERNS ONLY $2!
And, boy, does she have a great selection! She has a creative COSTUME patterns – including coz play, kids, historical and more. And what a lovely selection of VINTAGE dresses and styles. These aren't patterns you'll find just anywhere.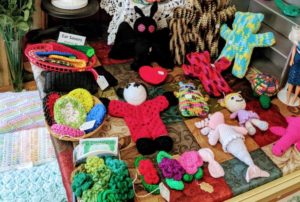 R.G. Crochetations
Rhonda Gerrard
OMGoodness! You are not going to believe what your seeing when you discover Rhonda's little crocheted creatures and toys. She makes all kinds of little stuffed animals and fantasy characters, including Pokemon characters and video game creatures. She has a nice assortment of traditional crafts but these whimsical little guys are the best!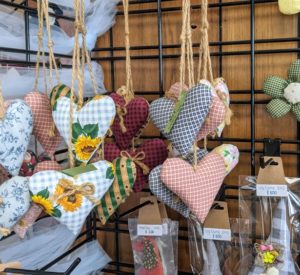 Ragity Lee
Brenda McGrew
Brenda has been selling in Amish Country for years and has decided to expand her shop to Elyria. We are VERY HAPPY to have her here. Her hand made gifts are of the HIGHEST quality and all are reasonably priced. She has everything from custom book marks and magnets to mini stuffed animals and gnomes! The perfect little something to show you're thinking of someone.
Sister Sister Sentimentals
Rhonda Coleman
Let someone know you care with one of Rhonda's hand made greeting cards. These cards are made with the finest papers and are her original designs. When shopping for a gift at Roxy's you can add a personal touch with one of these lovely cards.
Uncle Ray
Raymond Gill
HAND CARVED wall décor. Uncle Ray has created some wonderful, whimsical, wall art that would brighten up any corner of your home. Just looking at these lovely creations makes me smile. You have to come into and see these pictures to appreciate their quality and beauty!
Pearl's Girls Knit & Stitch
Carole Doerr
Pearl's Girls Knit & Stitch is a destination station for ALL your knitting & crocheting needs. She has budget yarn for the beginner and exotic yarns for the expert; yarns made from yak, peppermint, bison, even banana fibers! This is a unique, independent little shop with an entrance in the back of Roxy's.
Come visit us. You'll be glad you did.
Deb Roxy Born